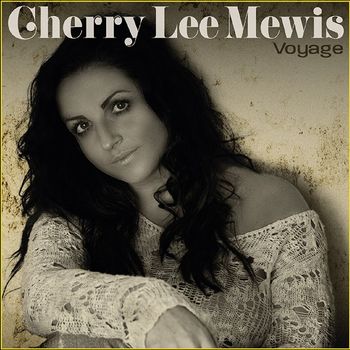 "VOYAGE"
AVAILABLE TO ORDER
NOW!
Cue EP release, VOYAGE, a 7-track-breath-of-fresh-air with an added 3 Nashville produced bonus tracks to boot.
The writing on this record has evolved from previous recordings and fans will find a flavour of something different artistically while staying true to the classic Cherry Lee Mewis sound. Those 'be yourself', good-time, fist-pumping, barn-burning songs that her audiences have come to love. Written once again by Cherry and her co-writer and guitarist of 15 years, Max Milligan, they followed the creative energy wherever it flowed by splitting into different writing combinations.
"We write together, or on our own then play each other our ideas, there's no set path," explains Cherry. "I try to write both lyrics and the skeleton of the music of at least two or three songs on each record totally by myself, because I want to keep digging and finding that close connection to telling my story in my music, so i picked up my guitar and dug deep! Once again Max totally helped bring my vision to life. In fact it's our vision and I feel so blessed to have him around me and salt-of-the-earth-people like my band too, we truly are family."
Amen to that as Cherry and her band consisting of Nick Slater (dobro), Robbie Stewart-Mathews (double bass & blues harp) and Brian Greene/Flow (drums) have spent years sharing cramped road journeys on tour as well as hotel rooms, creating the sort of chemistry that can't be faked.
"I've tried to always be honest in my songwriting and with this EP I feel i've really dug in deep and touched on subjects that people don't always put out there. First and foremost, I just wanted to write about things that I really knew about, subjects that hit close to home and I just took the time to really write. I know who I am musically and that is so important."
One close-to-home subject matter is written about on One Night Stand Boulevard. "I actually started this song 9 years ago," says Cherry. "however it was never finished and I wasn't totally happy with it so I decided to revisit it all these years later. It says what it is on the tin to be honest," she laughs, "growing up there were times when i'd mistake lust for love. It's also about turning a blind eye to the fact that it isn't the real thing but not wanting to let it go either for the risk of losing that quick fix thrill."
How I Fell Out Of Love is a timeless ballad with Max's fluid, layered guitar lines perfectly complimenting Cherry's impassioned vocals - a genuine showstopper - emotional without being overblown. There features a version of Elmore James' I Can't Stop Lovin' that has been revamped 'Cherry style' - red hot and smokin', proving not to be just an echo of it's original raw originator.
The whole of this 6th studio release, uses the boldest colours from across many genres, proving Cherry certainly feels most at home when bending genre lines.
"I've had people ask me what musical genre am I, or i've even had blues venues say i'm too country to play there and country venues/festivals saying i'm too blues to play here! It bugs me somewhat because all my influences fuse together to the point where I know my music doesn't sound out of place at either blues or rock festivals or at country hoedowns or even Americana clubs, it's good music and as far as i'm concerned, there are two genres of music - good and bad."
On Voyage there's many diverse and dynamic sides that comprise Cherry – from the confident, energy-a-plenty swagger of Come Back Home, to the autobiographical Living The Dream, the soulful confessions of The Naked Truth and the heart-wrenching traditional ballad The Water Is Wide that features Cherry's raw vocals over sparse guitar. And, of course, the thrilling Nashville makeover of 3 songs from 2014's Catch My Drift album, It's Cool, Bride Ain't Me and Old Shoes that feature some of Nashville's finest musicians in a musical reworking of these wonderful songs that simply had to be shared.
Voyage EP offers a little bit of everything. There's bluesy slide guitar, southern rock solos, harmonies, and plenty of groove. The hooks are big, the guitars are loud, and the songs — every last one of them co-written and/or arranged by Cherry and Max and it's available to order NOW right HERE.
WATCH THE OFFICIAL VIDEO FOR LIVING THE DREAM
WATCH CHERRY LIVE AT THE LITTLE RABBIT BARN PERFORMING A TRACK FROM LATEST ALBUM VOYAGE
WATCH THE OFFICIAL VIDEO FOR 
JUST CAN'T LIVE WITHOUT YOU