We hope here at CherryJam that you all had a safe and lovely Christmas, as different as it was, it was a weird one for us all in 2020 so let's all pray for a better 2021 with the return of live music being one of the first things on the list to return!
If you didn't catch Cherry and her band's festive Holly Jolly Christmas lockdown music performance, here's a link to view it on her Facebook page!
Remember to keep an eye on the gig page as rescheduled 2020 gigs will be put there in due course, it's still difficult to actually rearrange shows what with things still not back to normal, but we shall keep you updated.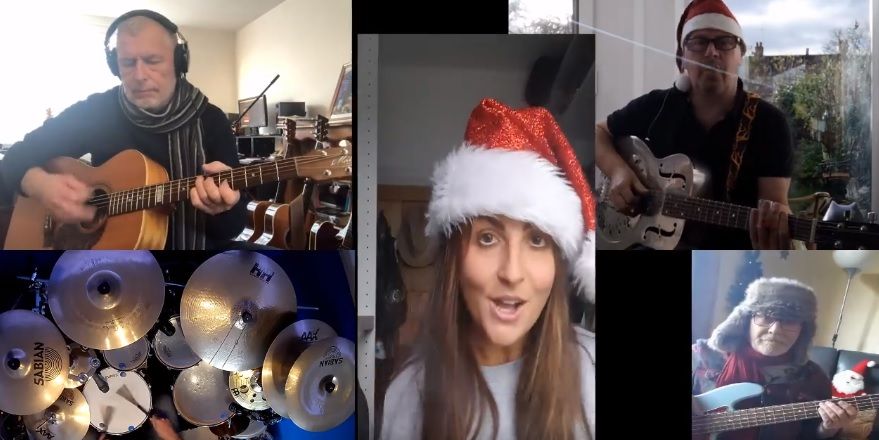 Stay safe everybody and we dearly hope to see you on the road in 2021. And now, a personal note from Cherry....
"2020 sounded so cool didn't it? 'Twenty twenty' but...Jeez!! A year like no other... I spent first 3 months of the year doing some theatre shows with the Floyd boys and the Johnny Cash Roadshow, my husband and I squeezed in a trip to Malaga, then it all changed...we didn't expect to be filling skips and rebuilding our garden fence for our honeymoon and spending 1239593485 days with each other 🤣 not to mention uprooting 641 tree roots, playing a few virtual gigs, lockdown performances with my band, and I turned into Cherry Claus at Christmas creating personalised Santa letters!! To say I'm missing travel and the stage is an understatement. .and a part of me is missing...BUT! 2020 was also the year one of my beautiful friends got married and another bought her first house, one's about to become a mummy and so is a cousin, and another just became one 🥰 So many beautiful blessings including just being content with the slower pace of life (ok, snail's pace compared to what we're used to 🤣) our house becoming like the set of 'Changing Rooms' with more makeovers and renovations, even a garden pub called Sling Yer Hook was built and lovingly filled with the yesteryear of pub trinkets and we finally released our live album Late Night Lock-In! We spent many a drunken bbq'd night with our smashin' neighbours and met a new whippety-wanderer-fox-lab walking buddy 🥰 Never been so thankful for treasured friends and family, our dog, not to mention health but I know on NYE I'll be raising a glass to those we've lost in 2020, still doesn't feel real that I'll never play a gig with Paul Piercy again or write a song with Maurice Kendrick. I could go on but I'm going to leave it on this note... Never did I think I'd ever go into a bank with a mask on to get money 🤣🤣
I wish you all health, happiness and love for 2021. Let's hope I don't have to postpone/cancel 9 months of work again! "
 
HAPPY NEW YEAR EVERYBODY love Cherry x